By admin | April 1, 2013
Congratulations to Vicky Ralston, the winner of Fairy Gardening: Creating Your Own Magical Miniature Garden!
A big thank you to all of you who left comments on the blog!
Topics: Events | No Comments »
By Summers Past Farms | March 22, 2013
By Beverly Turner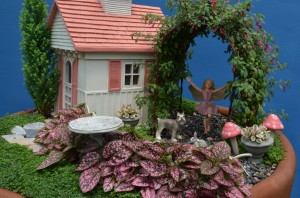 A well-accessorized home gives hints to visitors about the people who live there. A stylish woman imparts a sense of self by the shoes, handbags and jewelry she wears. Big and bold or quietly demure, the choices you make tell others who you are. Accessories really do make a statement about your life.
When adding items to your fairy garden, the accessories you choose are just as important. You want to include items that reflect the type or style of garden you are creating.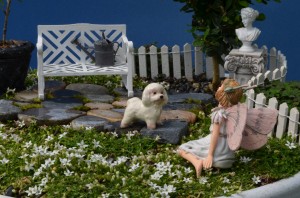 The easiest way to begin is to choose a theme for your fairy garden. Whether it's Victorian, formal or a farm scene—starting with a theme will inform all of the selections you make. You're not going to plop an elephant in the middle of a mini ranch enclosure, but some inexpensive horse figurines would be perfect. And no Victorian setting would be complete without a fountain, bench or statue. Just make sure your teensy statuary has a turn of the century look—no borrowing the kid's Happy Meal figurines!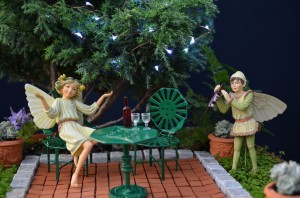 When gathering the goodies for your mini landscape, try to keep all of the items within a similar color palette. If you have a rust-colored gazebo, look for things with warm tones of terra-cotta, tan, brown and brick. Similar colors give the garden a nice harmonious look.
If you choose a white arch as your starting point, consider using the cooler tones of gray, black, silver and different tonal shades of white.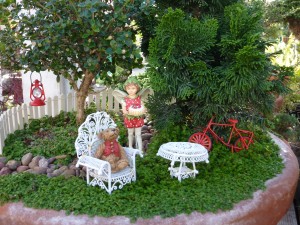 Using pops of color is fun, but employing an entire rainbow of hues can overwhelm your little scene. Choose one vibrant shade and repeat it several times, but balance it with a more neutral tone for the remaining accessories.
Finding and adding accessories is one of the most enjoyable aspects of creating your fairy garden. It really brings out your inner child and reminds you that you're never too old to play.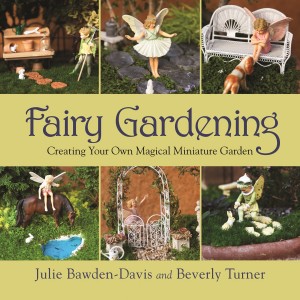 Guest author Beverly Turner is giving away one copy of her new book Fairy Gardening: Creating Your Own Magical Miniature Garden to a randomly selected commenter. If you would like to learn more about the miniature world of fairy gardening, leave a comment or question on this post to be entered into a drawing to win this book. One copy to be given away. Winner will be chosen randomly using Random.org. A valid email address is required for notification and recipient must have a valid U.S. or Canadian mailing address. The giveaway ends Thursday, March 28 at midnight Pacific Standard Time, and the winner will be notified the following day.
Want another chance to win? Visit Dragonfly Shops & Gardens  where the authors of Fairy Gardening will demonstrate how to decorate your fairy garden for the seasons and holidays. And be sure to visit Fairy Gardening Expert  for lots of fairy gardening tips!
Topics: Summers Past Farms | 74 Comments »
By Summers Past Farms | December 12, 2012
Look what we found in the garden
Topics: Uncategorized | No Comments »
By Summers Past Farms | December 12, 2012
Topics: Uncategorized | No Comments »
By Summers Past Farms | September 14, 2012
Topics: Uncategorized | No Comments »
By Summers Past Farms | August 17, 2012
Topics: Uncategorized | No Comments »
By Summers Past Farms | July 4, 2012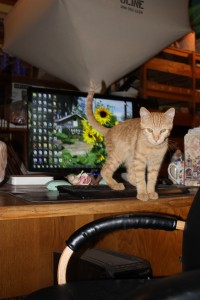 First day at work at Summers Past Farms
Topics: Uncategorized | 1 Comment »
By Summers Past Farms | July 4, 2012
Topics: Uncategorized | No Comments »
By Summers Past Farms | March 17, 2012
I found a fairy
Topics: Uncategorized | No Comments »
By Summers Past Farms | March 17, 2012
Topics: Uncategorized | No Comments »
« Previous Entries
Next Entries »